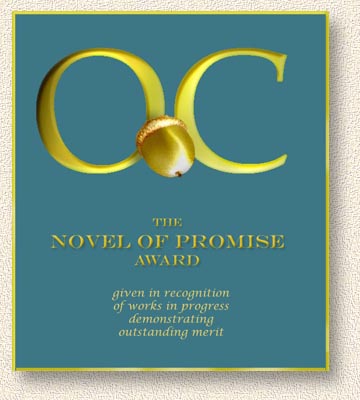 Dear Visitor -
Through the Novel of Promise Award, Ocean Cooperative Publishing recognizes work in progress and awards the persistence, intelligence and talent that contribute to the completion of a successful novel. The rules for entering the competition are simple and few. The prizes, awarded monthly, are pertinent and of real value.
Establishing Encompass Editions, the new imprint at Ocean Cooperative, consumed a lot of our time and we fell, well, behind. For twenty-four months we suspended the Novel of Promise Award. Now the competition is back and I hope you'll join us in search of tomorrow's published achievement.

Anyone who approaches the writing of a novel with serious intent knows what a formidable task it is. To begin with, a novel calls forth a considerable and dogged commitment of time, time that would be easier spent doing something else. Authors may be too self-critical and bog down in their own second thinking, or they may be too complacent and produce work of little merit. They may be pulled this way and that by the opposing demands of character and action, or by the opposing impulses to write only for themselves or only for a hypothetical reader.
Whatever the case, most writers — especially new writers without the imprimatur of a publisher — benefit from encouragement, or at least perspective.
Ocean Cooperative Publishing created the Novel of Promise award program to provide that encouragement and that perspective -- not for a few lucky entrants but for as many worthy contributors as the quality of their work recommends. The competitions are open to all writers and there are no limits on the number of submissions. Entry in the competitions in no way encumbers the writer's rights to his or her work or binds the writer to any agreement. The value of the prizes depends on the value the recipient attaches to them. For some, they can be transforming.
The competition for the OC award is on-going, with prizes awarded according to the quality of submissions. A grand prize -- publication by Encompass Editions of a manuscript chosen from all submissions -- is awarded from time to time. No special forms need be filled in. Authors' own e-mails are their entry forms. The rules of the competition appear below.
Good luck and good writing!

Publisher,
July, 2012
Ocean Cooperative Publishing